Egg Escape Prize Categories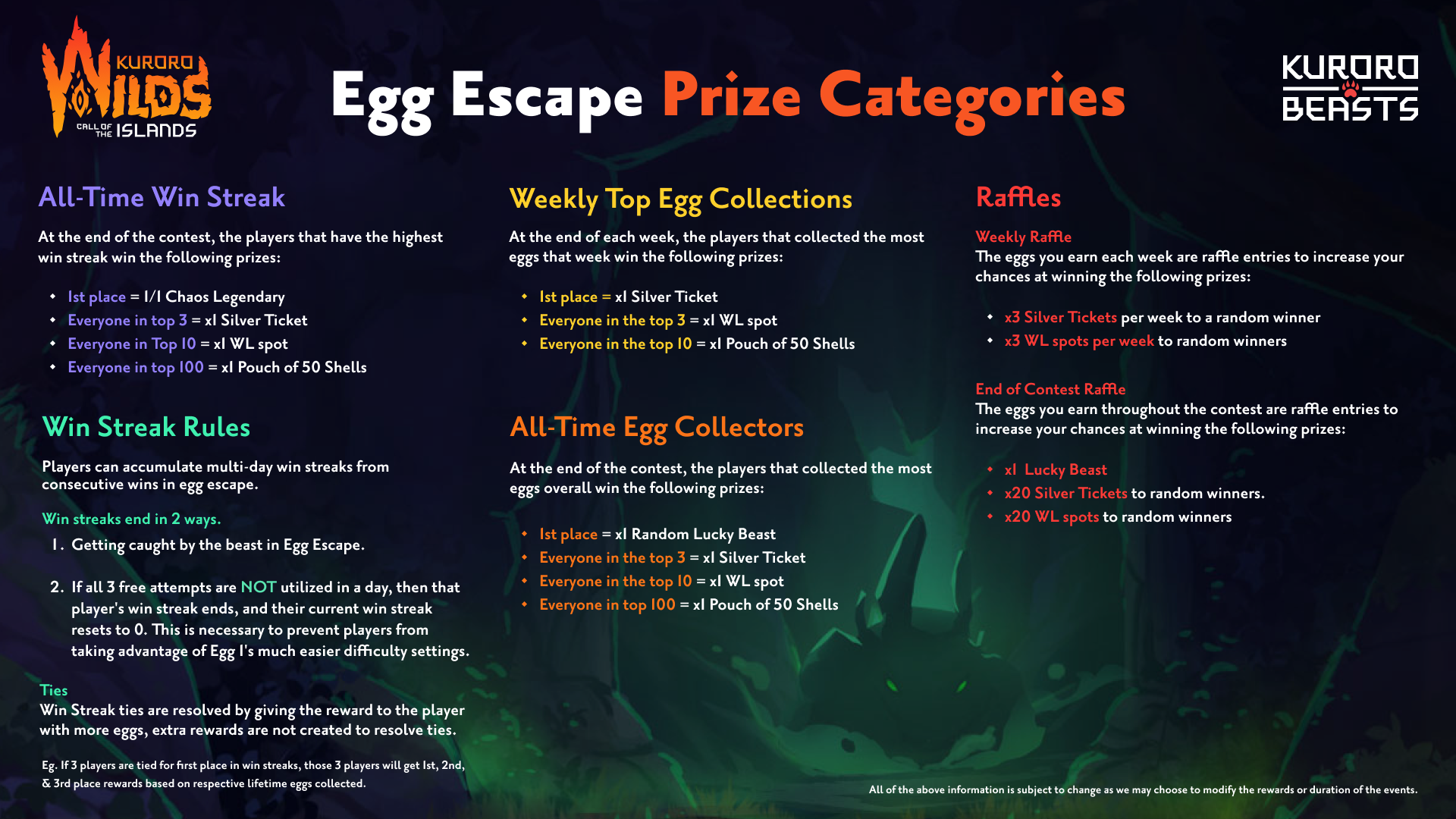 All of the below are subject to change as we may choose to modify the rewards or duration of the events.
All Time Win Streak
At the end of the contest, the players that have the highest win streak win the following prizes:
1st place = 1/1 Chaos Legendary

Everyone in top 3 = x1 Silver Ticket

Everyone in Top 10 = x1 WL spot

Everyone in top 100 = x1 Pouch of 50 Shells
Win Streak Rules
Players can accumulate multi-day win streaks from consecutive wins in egg escape.
Win streaks end in 2 ways.
Getting caught by the beast in Egg Escape.

If all 3 free attempts are not utilized in a day, then that player's win streak ends, and their current win streak resets to 0. This is necessary to prevent players from taking advantage of Egg 1's much easier difficulty settings.
Ties
Win Streak ties are resolved by giving the reward to the player with more eggs, extra rewards are not created to resolve ties. I.E. If 3 players are tied for first place in win streaks, those 3 players will get 1st, 2nd, & 3rd place rewards based on respective lifetime eggs collected.
Weekly Top Egg Collectors
At the end of each week, the players that collected the most eggs that week win the following prizes:
1st place = x1 Silver Ticket

Everyone in the top 3 = x1 WL spot

Everyone in the top 10 = x1 Pouch of 50 Shells
All Time Egg Collectors
At the end of the contest, the players that collected the most eggs overall win the following prizes:
1st place = x1 Random Lucky Beast

Everyone in the top 3 = x1 Silver Ticket

Everyone in the top 10 = x1 WL spot

Everyone in top 100 = x1 Pouch of 50 Shells
Raffle
Weekly Raffle
The eggs you earn each week are raffle entries to increase your chances at winning the following prizes:
x3 Silver Ticket per week to a random winner

x3 WL spots per week to random winners
End of Contest Raffle
The eggs you earn throughout the contest are raffle entries to increase your chances at winning the following prizes:
Give out x1 Random Lucky Beast

x20 Silver Tickets to random winners.

x20 WL spots to random winners